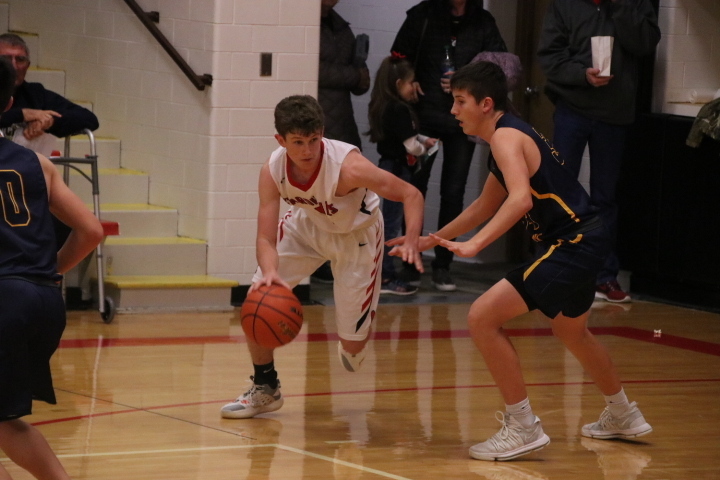 Cardinals Split Games in Holiday Tournament
Kathryn Prickett
Friday, January 10, 2020
The Cardinals defeated the hosts on Friday by a score of 66-53 and fell to the Shelton Bulldogs in the Championship game on Saturday 56-28. With the split of these games, the Cardinals records stands at 6-2 heading into the New Year.
Against Silver Lake, the Cardinals were led by the Senior trio of Isaac McCurdy, Burke Boehler and Vince Ongtangco. McCurdy led all Alma scorers with 19 points. Boehler hit for 16, while Ongtangco finished with 9. Junior Antonio Hudson scored a season high 7. Sophomore Jason Stenka added 6 points. Boehler led all Cardinal rebounders with five. The Cardinals shot 50% from the floor in the victory.
In the Championship game, the Cardinals were plagued by cold shooting early and were not able to stay close. Burke Boehler led the Cardinals with 6 points. Ongtangco and McCurdy added 4 points each. Junior Ehren Smolik also added 4. Smolik led all Cardinal rebounders with 6. The Cardinals shot a frigid 19% from the floor.
"We played solid against Silver Lake on Friday." "It was good to see some good minutes put together, especially when we had not practiced for a week." "We couldn't get things going on Saturday against Shelton." "We had some great looks early, but the shots didn't fall.
As they will host the Medicine Valley Raiders. Two quarter of JV boys will start at 4:30 pm, while the Varsity tip off is set for 7:30 pm.
Article by Mike Bantam