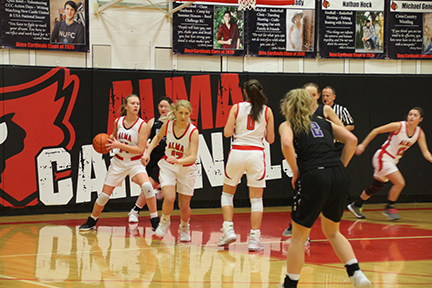 The Lady Cardinals Defeat The Axtell Wildcats
Michelle Lujan
Tuesday, January 14, 2020
On January 11th, the Alma Lady Cardinals took on the Axtell Wildcats. In the first quarter, Addison Neal makes a three-pointer. Katy Prickett makes a field goal and a free throw. Abby Cervera makes a field goal and two free throws. The score at the end of the quarter is 10-10.
In the second quarter, Carlee Stuhmer makes a three-pointer and a field goal. Neal makes a field goal at the end of the second quarter. At the end of the first half of the game the score is 17- 21.
In the third quarter, Stuhmer had two field goals and two three-pointers. Neal made two field goals and a three-pointer. Cervera made a free throw. The score at the end of three was 35- 33 and the Cardinals had the lead.
In the fourth quarter, Stuhmer made one free throw. Neal made a three-pointer and two free throws. Prickett made a field goal. Cervera made a field goal and three free throws. The ending score of the game was 48-44 with a Cardinals taking the lead.
Some highlights from the game were Prickett leading the rebounds with 15. Stuhmer had 5 steals, Cervera following with 4 steals. The Alma Cardinals played tough against the Axtell Wildcats and defeated them.
Article by Michelle Lujan