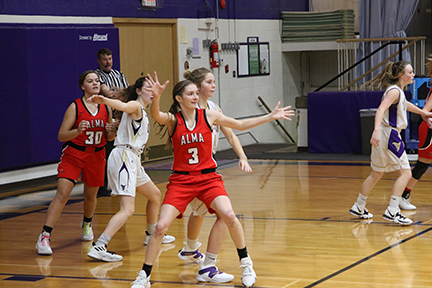 Lady Cardinals Lose to Franklin Flyers
Bonnie Nelson
Wednesday, January 15, 2020
Thursday the 9th the Alma basketball team travel to Franklin for a game. The girls scored 10 points in the first quarter. Sophomore: Carlee Stuhmer and Freshman: Addison Neal both with 2 field goals. Freshman: Katy Prickett made both her free-throws. Ending the quarter.
Neal made a fast break layup to start the second quarter. Followed by Prickett making two more free-throws. Sophomore Abbi Fox scored a 2 pointer, bringing the score up 6. Ending the half with 16 points.
The Lady Cardinals scored 3 in a slow start to the second half. Stuhmer with a free throw and Prickett two.
Stuhmer scores a three pointer to start the last quarter of the game. Followed by Neal making two three pointers in a row. Neal also made two free-throws. Senior Abby Cervera finishing the game with one free-throw and a field goal.
The Lady Cardinals fell short of the win ending the game with 33 points.
Article by Bonnie Nelson